Rocky Mountain Ranches, Ltd. offers mule deer hunts in the "High Desert" terrain of Moffat County, Colorado in unit 3/301. The terrain on our high desert ranches includes rocky canyons, pinion hillsides, creek bottoms, brushy draws, and endless rolling sage. This terrain provides excellent habitat for mule deer. It's the great concentration of mule deer that makes this one of our most successful hunts each year. Hunters should expect to spend a lot of time glassing and sorting through lots of does and young bucks to find the mature buck they are seeking. The moderate terrain on these ranches can provide a rewarding and enjoyable hunt for hunters of all physical ability levels. Our system of interior ranch roads offers easy access for hunting and for animal recovery.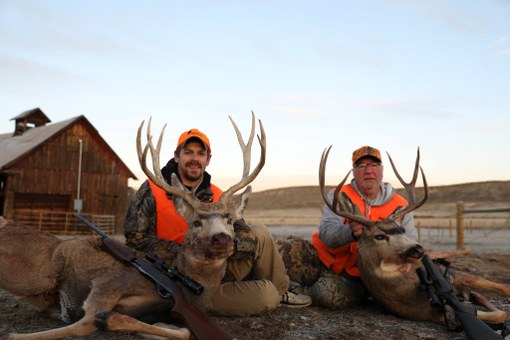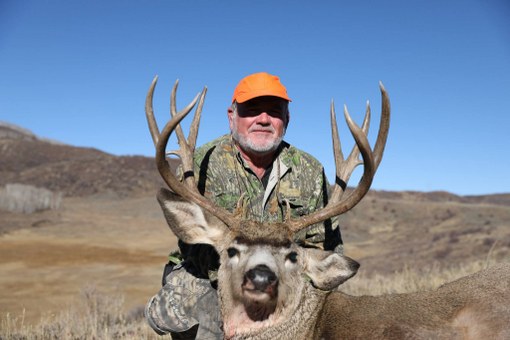 All of our mule deer hunts and big game hunting is fair chase only (no high fences here). Our Colorado ranches are managed to provide you with superb hunting opportunities.
In addition to our excellent resident mule deer herds, hunting pressure on nearby public lands causes more deer and other big game animals to migrate onto Rocky Mountain Ranches, Ltd., private land. Success on our Colorado high desert mule deer hunts is usually around 90% each year. This is a consistent and sustainable success we have seen on many of our ranches for over 20 years. As with all of our hunts, things like weather and moon cycles can effect success.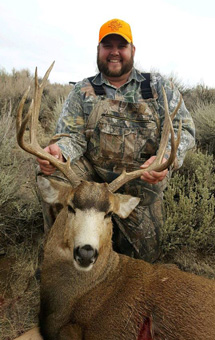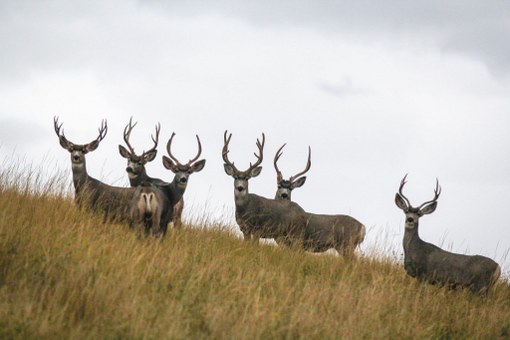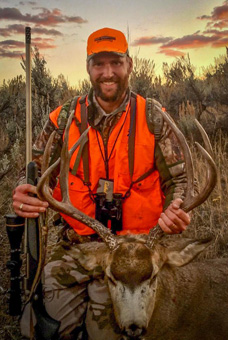 ---
"Getting my first mule deer buck on a hunt with Rocky Mountain Ranches is an experience I will never forget. It was 3 hard days of hunting but well worth it when I finally got a kill on the last afternoon we had to hunt. The property we were on just outside of Craig, CO had a lot of mule deer. Joe did a great job of getting us familiar with his property and showing us the best way to hunt in the area he had us. On the second day of the trip we came across a bachelor group of about 7 bucks and we hiked to where I was in shooting range. I took about a 280 yard shot and was almost certain I got the kill. Not until we got over to the area we thought the buck was laying did we realize what we thought were antlers was actually just a bush. We watched the video and discovered I shot just a hair in front of the buck. I was really disappointed to say the least.
The final day of our trip a cold front came in and snow was coming down hard. It made it even more challenging to find the deer and try to get within shooting distance of them. Once we spotted the buck we wanted to pursue, we decided to make a stalk on the fine animal. After playing the infamous "cat and mouse" game for over 2 hours, I finally had an opportunity to pull the trigger. I was shooting a 6.5 X 47 Lapua and shot the buck from about 260 yards. It took more than one shot but he finally fell to the ground. I was so pumped! This was only my second time to have an opportunity to harvest an animal, but one I will never forget mainly because I was 3.5 months pregnant with our first child. Although it was not a "giant" mule deer to some people it was to me because of all the hard work Tully and I had put into this hunt. The countless hours of glassing hill sides, playing the wind, and trying to get into position finally all came together for me to harvest the buck. I was so blessed to have Joe with Rocky Mountain Ranches and Tully there to share it with me."
--Tara Janszen, Lonestar Outdoors TV