Rocky Mountain Ranches, Ltd., is proud to offer you, the big game hunter, some of the best elk hunting in Northwest Colorado. Our Colorado elk hunting is conducted on a variety of the finest private ranches in the Craig-Steamboat Springs area of Northwest Colorado, allowing our elk hunters to choose a ranch that will best suit their needs.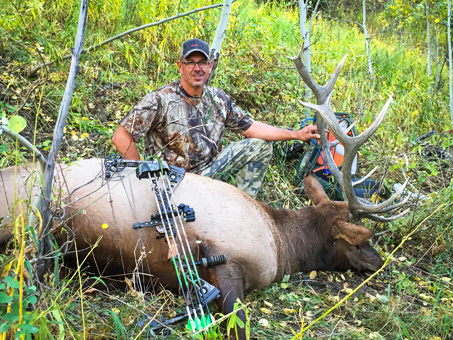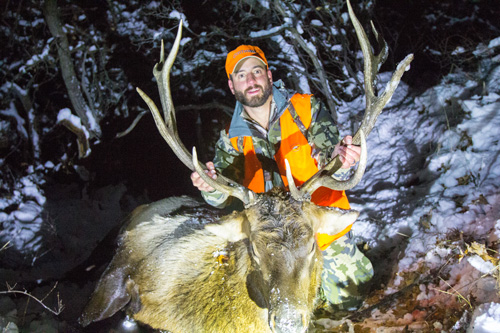 Northwest Colorado is famous for its large herds of elk and other big game such as mule deer and pronghorn antelope. All of our elk hunts and big game hunting is fair chase only (no high fences here). Our Colorado ranches are managed to provide you with superb big game hunting opportunities. Due to the high concentration of elk in our hunting units, elk tags can be easy to attain with some being draw elk tags and some being over the counter elk tags. For more information regarding tag availability and the draw, please click here. Rocky Mountain Ranches, Ltd. will provide all hunters with assistance in attaining tags.
In addition to our excellent resident elk herds, hunting pressure on nearby public lands causes more elk and other big game animals to migrate onto Rocky Mountain Ranches, Ltd., private land.
Our elk hunting areas are in 4-point or better game management units, thereby increasing your chances of taking a mature bull elk. Typically, our hunters achieve a success rate of over 50% on 4-point or better bull elk, with the majority of bulls running in the 5- to 6-point range.
Rocky Mountain Ranches, Ltd. has a variety of Colorado private elk ranches, allowing our elk hunters to choose a ranch that best suits their needs.
High Country Elk Ranches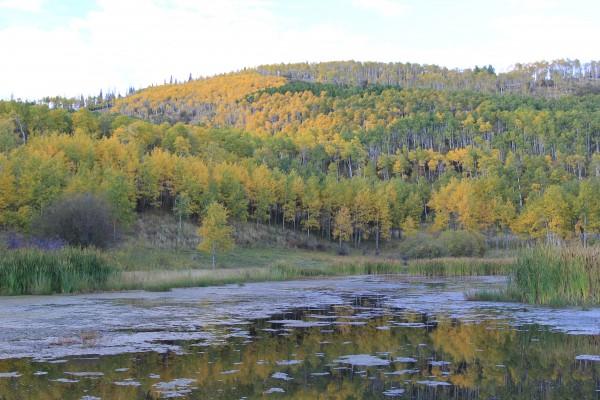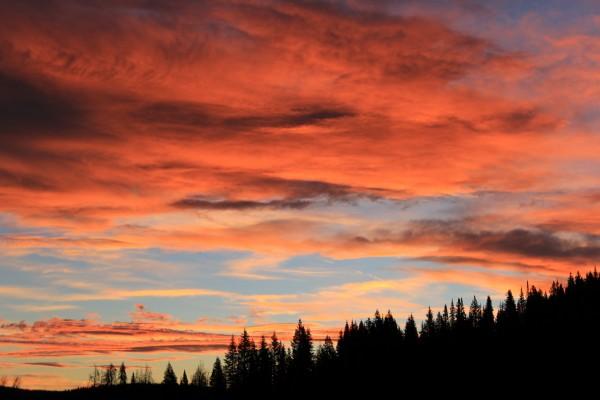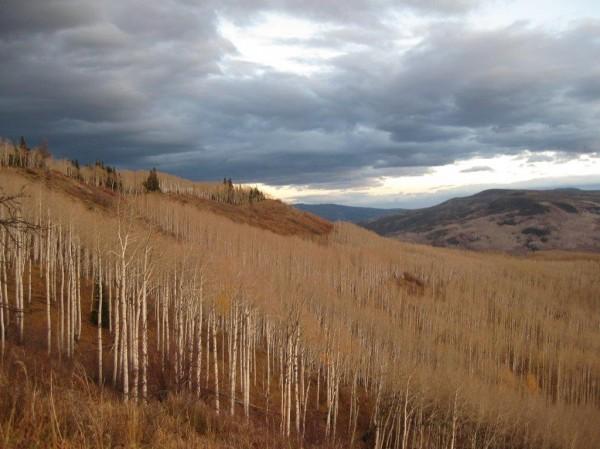 Our High Country elk ranches offer great opportunities for those hunters looking for a "wilderness" or "National Forest" type of elk terrain without needing to pack into remote hunting areas and without the crowds found on public land. Our High Country elk ranches generally top out around 9000 feet in elevation and offer some breathtaking scenery with views of the Flat Tops, Gore Range, Eagles Nest Wilderness, and more. These ranches typically have big dark walls of timber on the north facing sides, huge aspen glades, big open meadows, ponds, springs, wallows, and some oak brush on the south facing hillsides. Even though these ranches offer similar terrain to wilderness or forest service hunts, they are much more moderate than most public land elk hunts. If you are looking for the ultimate big mountain, Colorado hunting experience, these High Country ranches might be your top choice.
Moderate Elk Ranches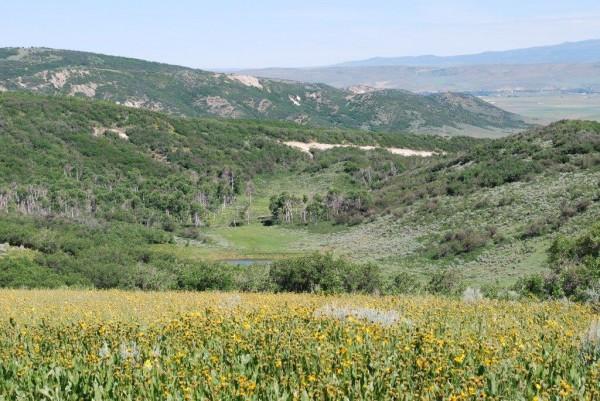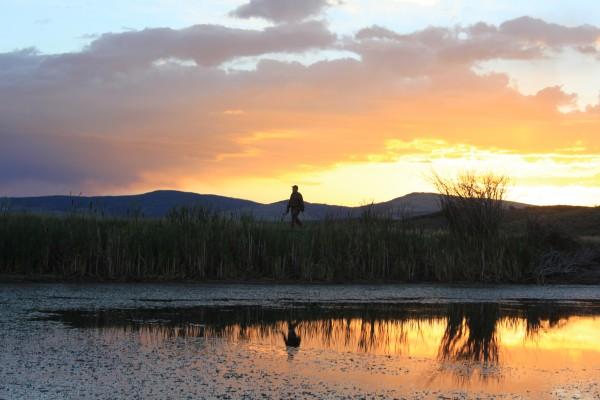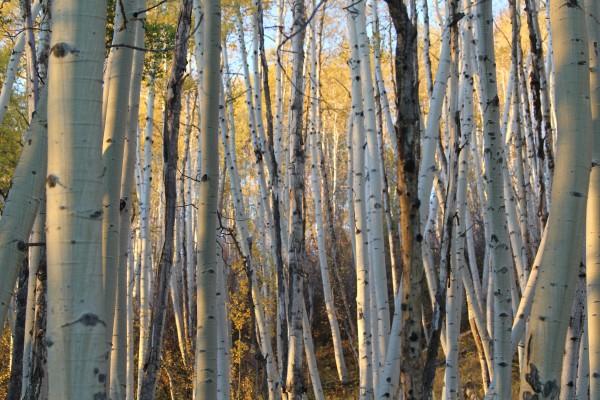 If you are looking for a great Colorado elk hunt without the rugged terrain of our High Country elk ranches, our moderate elk ranches are an excellent option. These elk ranches typically top out at or below 8000 feet in elevation. Vegetation on these ranches will be mostly aspen glades and oak brush combined with some lower rolling sage. These ranches do not have the "dark timber" look of our high country ranches. These ranches offer the same great success opportunities as our high country elk ranches without the steeper rugged terrain.

We restrict the vehicle access on all or our elk ranches to ensure a low pressure environment for our elk. You can drive the main ranch roads as much as you like in a truck or ATV. All of the smaller roads and 2 tracks are off limits to vehicle travel unless you are recovering an elk. Each of our ranches are working ranches and have a good amount of vehicle access for elk recovery. However, all hunters should be prepared to pack out their elk if needed. Since we allow vehicle access for elk recovery, packing distances are usually much shorter than you would find on a public land elk hunt. We do offer an ATV rental service to aid in elk recovery. ATVs are not required for these hunts and most of our hunters do not use or need ATVs.
For the hunter who prefers to put tasty elk steaks in the freezer rather than antlers on the wall, we also offer cow elk hunting at a reduced rate. Our "late cow hunts" occur after the regular rifle bull elk seasons. These big game herd reduction hunts help to control our over-abundant elk herds. Many of our hunting units offer an ample amount of late cow tags that can be purchased as leftover licenses after the Colorado draw.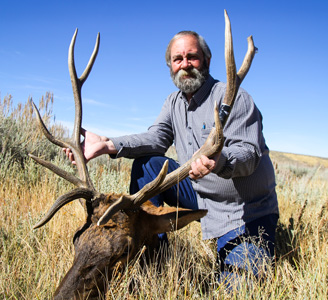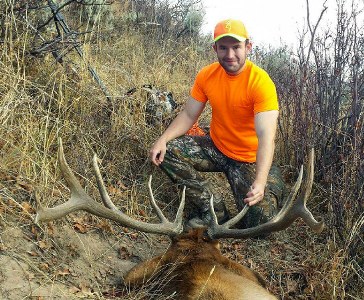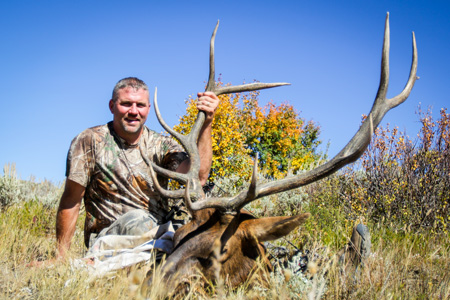 Tag Availability and the Draw
Our elk hunts are conducted in units that contain great concentrations of elk, allowing us to easily attain tags in these areas. Our hunting ranches are home to the White River elk herd, Bears Ears elk herd, and other elk herds. It's these great concentrations of elk, combined with our limited hunting pressure, that allows our non-guided hunts to be so successful.

Tags for archery as well as 2nd and 3rd rifle seasons are available over the counter (OTC). OTC tags can be purchased online or at any store that sells licenses once you're in Colorado. These OTC tags are not limited in number and there is no risk of "not drawing an elk tag."
Tags for 1st and 4th rifle are by draw in our units, but this is a very easy draw with all past years having an 100% success rate. Rocky Mountain Ranches, Ltd., will assist with every hunter's draw application. We provide a detailed email including hunt codes and can provide assistance over the phone during the application process. 2017 is the last year Colorado will be accepting paper applications. For the 2018 season and beyond, all applications must be completed online or over the phone. Don't worry if you don't like using email or making online purchases, we can assist you in calling in your application.
Muzzle loader hunts can require somewhere between 0 and 2 preference points in our units. We can provide assistance as well as a strategic plan for those hunters looking to draw preference points. We will assist anyone applying for Colorado preference points, even if they are not committed to booking a hunt with us. Please call or email us to discuss which ranches and which units have muzzle loader preference point requirements.
---
Shooting my first bull elk last October is hands down one of the coolest hunting experiences I have ever had. Joe with Rocky Mountain Ranches has access to land with not only prime hunting but beautiful views too. The first day we got on the elk mountain we hiked 3 miles trying to find the herd, saw some elk, but never got within a good shooting distance. My wife and I got to the mountain early, took the Ranger up the mountain and then hiked through the snow about another mile. We came around a corner and saw this nice 5X5 bull eating alone in the aspen meadow. Luckily he never heard us hiking in the snow due to it being fresh powder and I had a 70 yard shot with my 280 mountain rifle. The bull ran 40 yards and piled up at the edge of the trees. When the animal fell, a rush of adrenaline came over me unlike anything I had ever experienced. Being in God's creation, harvesting an animal that big, and sharing the experience with my wife is something I will never forget! Joe goes over and above what most outfitters would do to help his hunters succeed. He focus on safety and fun in a do-it-yourself environment. I am so grateful to Rocky Mountain Ranches for providing me with this hunt of a life time.
--Tully Janszen, Host of Lonestar Outdoors TV